Picture this. It's a Friday night. You've got your PJs on, a big bowl of popcorn is sitting in your lap, and all four Halloweentown movies are playing back to back. It's a perfect fall night.
You get settled and suddenly you get a text reading:
"You on your way to the party tonight? I can't wait to see your costume!"
Oh no, you completely forgot about that Halloween costume party that already RSVP'd for. You have no costume and less than an hour to get ready. What are you gonna do?
Have no fear, magical girl, we got you covered on 8 quick and cute last costume ideas.
Workout Barbie…..or (insert any occupation or activity) Barbie
A costume that's only requirements is having clothes. Our good sis Barbie has had hundreds of jobs so it's all up to you with what type of Barbie you are. We recommend workout Barbie. Here's what you'll need:
A pink tee (shop our Black & Proud tee) – if you have a little bit of time, crop it!

Leggings or an athletic skirt 

Sweatbands

Leg warmers or scrunched up knee socks  
If you've got a little extra time, grab a visor and that tennis racket that's sat in your closet since high school and now you've got Tennis Star Barbie.
Tune Squad Team Member
If you always wanted to join the Tune Squad but you severely lacked the hand-eye coordination necessary for it, this is the costume for you. This also can be adapted to a group costume. Here's what you'll need:
If you've got a little extra time, grab a matching jogging suit,  a whistle, and a Melanin Squad Dad Hat. And voila, you're the coach!
Bulma
Let's be real, Bulma served some perfectly adorable tomboy and girl looks in her day. She may be a bit of a hothead, but we still stan a fashion queen. This costume is inspired by this picture of Bulma.
Here's what you'll need:
Light pink top (shop our Bulma tee here) 
Pink skirt
Brown belt
A red bow
Purple scarf
Converse
If you have a little extra time, pop over to your local thrift store and pick up a green fanny pack and purple leg warmers to complete the look.
70s Hot Mama 
70s inspired costumes are super easy because the only real requirement is throwing up a peace sign (which is a viable option if you are just completely strapped for time). However, we're going for a complete 70s throwback look.
Here's what you'll need:
A ringer style tee (shop our Foxy & Brown tee)
High waisted, bell-bottom jeans or shorts
Platform shoes or Converse sneakers
The peace sign
If you have a little extra time, prep and tease your hair the night before for huge 70s hair.
Casual Survey Corps Member 
Everyone sees the Survey Corps in action but what about when they're just relaxing? This costume is for the casual member of the Survey Corps.
Here's what you'll need:
If you have a little extra time, try and find a light brown jacket that you don't mind painting on. If you're feeling a crafty, paint the Survey Corps logo on the back.
Nerdy Regina George
Live out your mid-90s and early 2000s dream with this quick and easy costume. Regina was a style icon but we think she could use a nerdy spin on her look.
Here's what you'll need:
A cute and quirky graphic tee (shop out "Pretty Girls Like Anime" tee)
Mini skirt (make it pleated and plaid for authenticity)
Heels
If you have a little extra time, get your best gals together and dress similarly to mimic the Plastics. To fulfill the 2000s fantasy, track down a pink Razr flip phone and put it in a laughably small purse.
Weekday Witch 
At any given Halloween costume party, there are approximately 26 witches so you, magical girl, have to stand out. Stand out from the crowd with this laidback witchy costume and let everyone know who the real Supreme is.
Here's what you'll need:
If you have a little extra time, paint your nails black and craft a killer smokey eye.
Casual Bliss 
Photo via @Thouartanuli
Last and certainly not least, the 4th Powerpuff Girl, Blisstina Utonium. Bliss arguably has the coolest powers of all of the Powerpuff Girls (sure she can lift a building but she can also teleport, a way better superpower).
Here what you'll need:
Our PPG Melanin tee
Jeans
Jean jacket (decorate it with some pins, if you're feeling fancy)
Black Converse
If you have a little extra time, pop on a long turquoise wig and you got Bliss.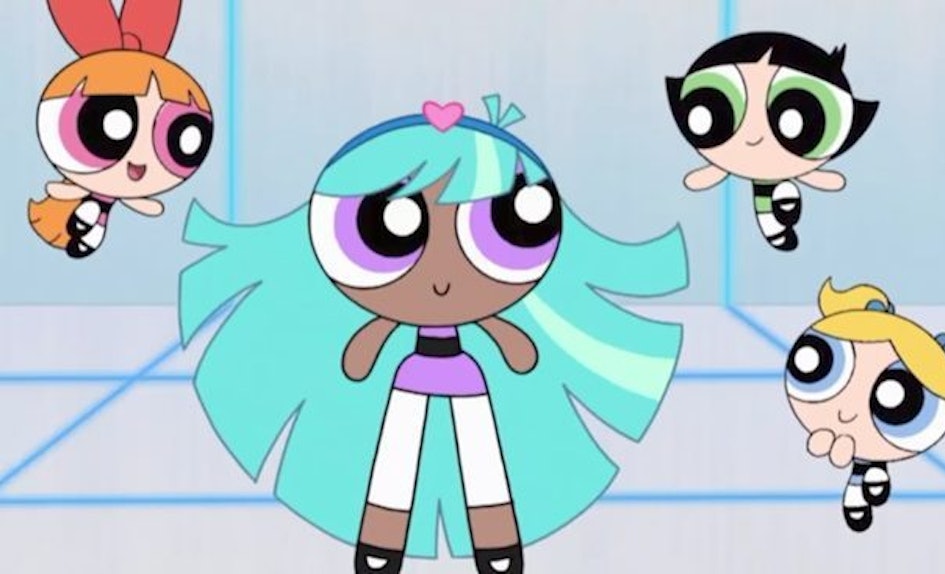 You got the costume, now go out and rock it, magical girl!
What you going as for Halloween this year? Let us know in the comments below!